Amrod

A Thieving Magic Elf version of Romeo

Name:

Amrod

Species:

Elf

Eye Color:

Blue; Glittering Gold

Hair Color:

Blonde

Allignment:

None; works for his own personal gain

Goal:

Collect stones, to get Tara
Description
Amrod is a charm collection elf thief from Otherworld; he appears solely in the episode Guardian Of My Heart.
Appearance
He appears to be a charming man with short dirty blonde hair, long hair on side of his head, a blue tunic, bracelets with some magic stones on left arm, black pants, and gray knee-length boots. He also has sparkling gold eyes.
Personality
He is charming and smooth, also an elf thief particularly fond of and protective of his magic stone collection (which is implied to have mostly been stolen from others) He becomes infatuated with Tara, and, upon meeting her face-to-face, falls in love with her. When she refuses him, he attempts to use one of his stones to charm her. Tara defeats him, and he sadly says goodbye to the girl whom he calls "the Guardian of my [his] heart."
Notably, because of his last resort attempt to get Tara, as well as his deal with Henri to obtain a magic stone, he is very ambitious and will do anything to get what he wants.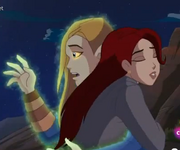 Relationships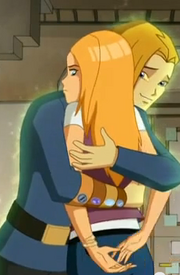 Amrod is heads over heels with Tara, believing her to be his soulmate and take her back to otherworld with him. Unfortunately for him, Tara does not feel the same way. However, at the end of the episode, Tara states that she may have been interested had he not been evil, even calling him cute. It is unknown whether she was being serious or messing with Cal.
Likes
Stones Tara Duncan
Powers and Abilities
He is a very powerfull elf: Amrod can use some magic without tell the spells. And as thief, he moves very quiet.
Trivia
Quotes
Gallery
Community content is available under
CC-BY-SA
unless otherwise noted.