Livia



Name:

Livia

Species:

Human(Non-spell)

Hair Color:

Blonde
Livia is Sandra's BFF and often tags along when
Sandra
attempts to humiliate
Tara
or expose whatever secret she's hiding. (The result is either a mentus to both them or a single mentus to Sandra.) Livia is the considered the lackey or the sidekick of the two, as well as the less intelligent. It is also noted that Livia has a crush on
Cal
. Towards the more recent episodes, Livia is shown to be as mean and vicious as Sandra.
Appearance
Edit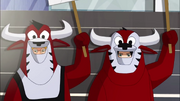 Livia is a petite non-spell with blonde hair and amber eyes. She wears big, round glasses. She typically wears the same outfit in most of the episodes she appears in; with the exception of "
Brothers in Fangs
", in which she wears a red hoodie when stealing videos.
Relationships
Edit
Livia has an obsession with
Cal
.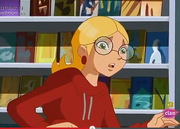 In "Brothers In Fangs" She steals the videos from the store to grab his attention. She takes a liking to Manitou after she pours out all of her feelings for Cal out to him. (however, that was her only appearance without Sandra.) In "Assault on the Manor", she calls Cal the "boy I [she] love!" She goes into his room and sniffs his shirts, saying that it smells of his scent. She also courageously attacks a werewolf when it rips Cal's shirt.
 "NOBODY RIPS THE SHIRT OF THE BOY I LOVE!"
-Livia to one of Mama Fretelly's sons.
At first, it appears that Livia is pretty much neutral to Tara, but in later episodes, she is seen sneering at her. Whether it is from jealousy that Tara hangs out with Cal or whether Sandra has rubbed off on her is unknown.
"Trade jobs with us! We're the more glamorous ones. It's you who belongs in the kitchen."
-Livia to Tara in As If By Magic
Livia used to have a crush on Jordan of the Cryista Brothers before gaining an obsession with Cal.
She typically wears the same outfit, with the exception of a red hoodie in Brothers in Fangs.
Community content is available under
CC-BY-SA
unless otherwise noted.