Lycos is a dark lavendar color with a dark purple accent color on her soulders and head. The whites of his eyes are bright olive green, his irises black and his pupils red.
Fabrice
's "brother in fangs" who makes an appearance in episode 6, "
Brothers in Fangs
"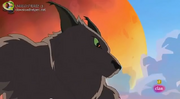 . Lycos may seem tough but cares for his brother in fangs Fabrice. He likes to argue with Tara on who is Fabrice's surrogate sibling.
Community content is available under
CC-BY-SA
unless otherwise noted.