Mr. Spade

The Beloved English Teacher

Name:

Mr. Spade

Species:

Nonspell

Occupation:

English Teacher

Love Interest:

Isabella Duncan
Description
Edit
Mr. Spade is Tara`s English teacher at school. He teaches a difficult class, but he is well-loved by all his students, especially Tara. He is kidnapped by Baron Boris Burogoff in Cyrano Of Otherworld.
Relationships
Edit
Isabella: He is romantically interested in Isabella, becoming infatuated when seeing her picture and falling for her after rescuing her from Baron Boris Burogoff. Unfortunately, Isabella was forced to cast a mentus on him, but the infatuation appears to still remain.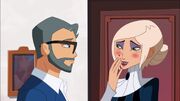 He is the only nonspell teacher shown so far.
He appears to show slight favoritism to Tara.