Saffron Henderson (born September 25, 1965) is a Canadian voice actress and singer and the daughter of Bill Henderson of Chilliwack fame. She has voiced various characters from anime series. She voices the main character Tara Duncan in the Tara Duncan series.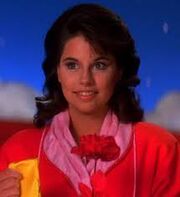 Voice Roles
Edit
She is usually cast as mature and occasionally flirtatious young woman, or as a child, though mostly young boys.
In an Animerica interview, she stated that she was in the movies The Fly II and Friday the 13th Part VIII: Jason Takes Manhattan. She played Veronica Quaife, taking over the Geena Davis role, and the rocker J.J. Jarret, whom Jason Voorhees used a guitar to kill.
Saffron has also provided backing vocals on several albums, including for ex Free/Bad Company vocalist Paul Rodgers' 1999 album Electric.
.hack//Roots - Midori
Nana - Junko Saotome
Cardcaptors - Vicky (episode 14)
Black Lagoon - Shenhua
Death Note - Sachiko Yagami
Dragon Ball (BLT Productions dub) - Goku (episodes 1-13 and movie 1)
Dragon Ball Z (Ocean Productions dub) - Gohan (episodes 1-53 (67 uncut), episodes 108-165, and movies 1-3)
Galaxy Express 999 (movie) - Tetsuro Hoshino
Adieu Galaxy Express 999 - Tetsuro Hoshino
The Girl Who Leapt Through Time - Kazuko Yoshiyama
Hamtaro - Oxnard, Maria
InuYasha - Sota Higurashi, Eri (First voices, later replaced with Rebecca Shoichet)
InuYasha the Movie: Affections Touching Across Time - Sota Higurashi, Eri
InuYasha: The Castle Beyond the Looking Glass - Sota Higurashi, Eri
Joon Joon And Friends - King Pow, Josh Josh, Hannah Tatsuma
Key the Metal Idol - Miho Utsuse, Beniko Komori
Maison Ikkoku - Kentaro Ichinose
Monster Rancher - Genki Sakura, Sandra, Eared Mew, Pink Suezo, Furred Suezo
My Scene Goes Hollywood - Audra
Naruto - Kurenai Yuhi (Episode 3, later replaced with Mary Elizabeth McGlynn)
Nicktoons: Battle for Volcano Island - Queen of the Myrmecs, Crab Follower #1, Crab Refugee #1, Crab Refugee #3
Ranma ½ - Tsubasa Kurenai (TV series), Kogane Musashi, additional voices
Saber Marionette J - Edge, Bloodberry
Trouble Chocolate - Almond
Tara Duncan- Tara
The Vision of Escaflowne - Yukari Uchida, Eriya, Celena Schezar, Naria
Zatch Bell! - Sherry Belmont (episodes 1-85)
Zoids: New Century Zero - Naomi Fluegel
Powerpuff Girls Z - Brandy
Community content is available under
CC-BY-SA
unless otherwise noted.